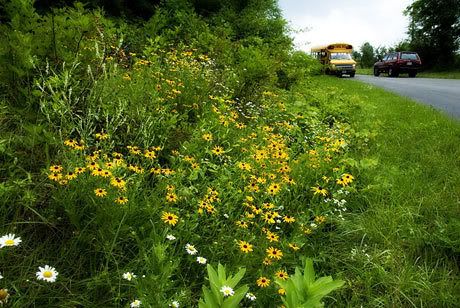 I had a thought after I posted this image of Black Eyed Susans (and other flowers) taken yesterday on a Floyd County roadside. Here it is:It would be neat for contributors from all over the country to offer their images to an aggregate gallery called
America's Roadside Bloomery
. All images would include in their composition a road of some kind, just to place it, and then the wildflowers that grow there unplanted.Hiway department wildflower beds don't count.Each image should be 72 dpi, max size of 800 pixels on the largest side. Information should minimally include the location, if possible some ID on the flowers, and any other pertinent or interesting information.If you would like to accept this assignment, send them to me at — fred1st over at gmail — with
Unplanted Garden
in the subject line. I will upload them to a public gallery on Smugmug.I'll collect these through October (there are lots of fall asters, Joe Pye Weed, Iron Weed, etc.) If at least thirty are received, we'll go farther.We'll vote and there will be a first, second and third prize–some combination of the book (Slow Road Home), the two sets of photo note cards, and screen saver images for your computer.Please forward this pleasant "assignment" to your photog friends. The more, the better. I will set up the gallery with this image soon, and it will be ready for your submission.
Here's the 800 pixel version of the image above
. (
Link back to the front page
of Fragments)
Now. Get out there while the flowers bloom. And stay out of traffic!
UPDATE: And speaking of traffic. AMERICA'S ROADSIDE BLOOMERY, a call to action for photographers. Cool! — kindly posted by Glenn Reynolds at Instapundit Saturday morning. Now you peepers send in those pix! Deadline: 15th of October for submitting, voting completed October 31 and prizes awarded.