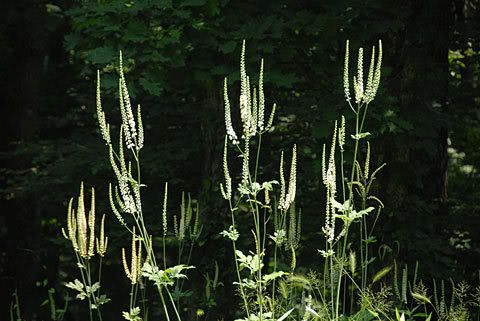 This tall wraithe of a forest wildflower is Black Cohosh. Like so many other wildflowers that are many times taller than wide, it's a hard one to show off in the best light. Unless, of course, you seek and find the best light.
And that is not all that hard to do along the Blue Ridge Parkway in the morning hours before 10 or afternoon after 3 in the summertime. Shafts of light slanting through the forest selectively illuminate your subject against the black velvet backdrop of unlit shadow, eliminating the busy, distracting blobs of shape and color that leave the eye searching for the picture.
You may have heard of Black Cohosh, if not as a wildflower, as a medication recently in use to treat menopausal symptoms. See this Mayo Clinic report on Black Cohosh. I suppose the drug companies accept wild-collected stock, but haven't heard of people collecting it for cash like they do Galax, Running Cedar, Ginseng and such. I'll have to explore that issue. There's sure plenty of it in the rich woods along the ridges here'bouts.
The larger image does a better job of showing this plant off at its best.