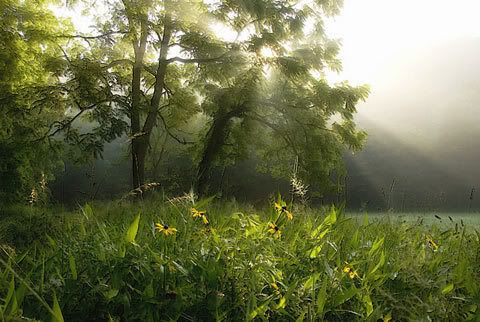 She scolds me when I don't stay in lock step on our ramble around the walking loop. But how could I leave such glorious light to bloom unseen? I had to stay behind. This was one of those times when light makes the image, the image in a sense is of the light and certain objects–a half dozen Black-eyed Susans that didn't fall in the pasture mowing–just happen to fall in those misty shafts.
Larger image here.
I'll have more images from this same morning of light. But before I forget…This weekend: busy busy busy! July 7 and 8, Saturday and Sunday, marks two nearby events. The first, the
Wine Down the Music Trail
festival at the Floyd Fest grounds. We're going on Saturday afternoon.And nearby, just off the Parkway beyond Mabry Mill is the
Crafts in the Meadow Festival
at Mountain Meadow Farm and Craft Market, where the motto is "Uniting Southwestern Virginia's Artisans and Craftsmen With Local Heritage Farmers to Preserve the Traditions of Days Gone By."
And on Sunday, along with a half-dozen other authors, I'll be sitting in a lawn chair behind a stack of signed books, fanning myself under the book tent in the heat of the day–there to serve the literature-hungry throngs clamboring for something to read. They'll especially be looking for locally-written slice-of-life memoirish works from Floyd County. Right?