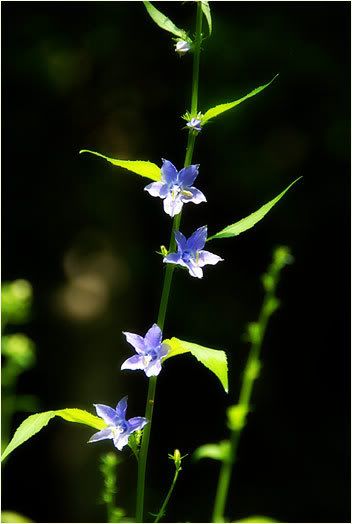 I think I'm in the right genus, but haven't keyed it to species yet. Those curved anthers should make it relatively easy to distinguish from its kin.
UPDATE: Thanks to Rurality for the dope slap and correct ID: American Bellflower
.I had to shoot with the lens at 200mm because these were blooming up a steep shale bank at the end of the valley. The dynamic range from lightest to darkest was too great for the medium to capture so the highlights are blown; would have been a good time to take RAW and use Photomatix to balance light against shadow. But I was too lazy to think through this.
I love bringing images back and posting them while they are still "warm" from the field, though it's not quite as much fun having to upload blog-size and enlarged versions to Photobucket as it would be if I had a permanent place for them. Maybe this will happen soon. Sigh.