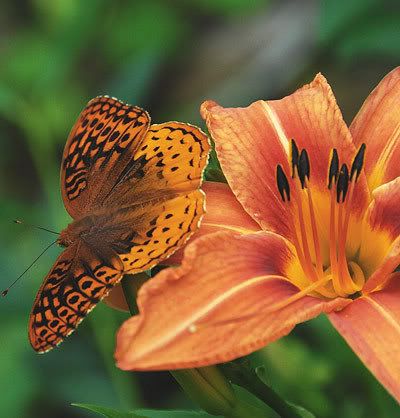 Well, the day lilies are in full and glorious bloom, so that means that the road crews will be along with their mowers to cut them down at their peak of blossom as usual. Maybe this year they'll take my suggestion and put this road on their list for a couple of weeks later in July so the lilies could know their glory days and not be brought low while in their prime.
But honestly, our 4 mile gravel road, like others in the county, show signs of budget cuts for roadway maintenance. Branches hang so low over our road that when they're wet, they drag along the top of the car when we pass by. The place is kinda looking neglected.
There's one spot on the high side where a tree fell across the road a month ago. Somebody cut just enough of the branches out of the top so folks can get past, but just barely. In times past, VDOT would have been on that in a day or so. We haven't seen them out this way in the month since the tree fell.
So. Today the orange day lilies that have escaped from cultivation from the more numerous homesteads that once inhabited this valley add color to every blind curve and hillside along Goose Creek. Occasionally, they come adorned with color-coordinated accessories like this Fritillary.