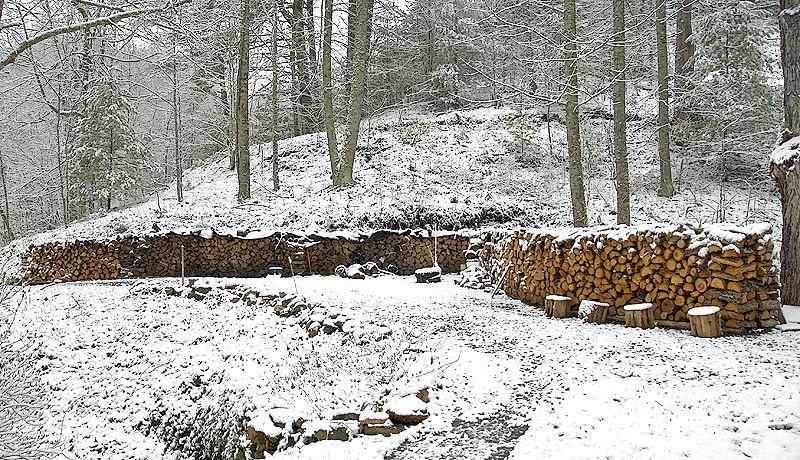 I'm beating the rush for New Year's Resolutions, and thought I'd go ahead and start failing to keep mine ahead of schedule.
I've realized that I have allowed myself to get too unfocused and content to merely wander, digitally-speaking; while physically, in our current and unfamiliar dogless condition my geographic wandering covers only the distance between the back porch and the woodpile. This has got to change.
I do have the need to get things done, both because they tend to pile up like a sink-full of dirty dishes, left ignored; and because it galls me to see my to-do list being rolled over from Monday all the way to Friday unchecked. I can do better.
Writing words-per-day or completed "book parts" are worthless measures of my recent productivity. Firewood added to the stacks from the year's deadfall has been a typical measure of things-gotten-done in winters past. This year, with our future housing uncertainty, I am not using my new old Ford Ranger to cut up perfectly good and relatively easy stove wood from up the valley. The stacks out my window, depleted, stay that way, down to the runners. This weighs heavily on my manhood.
At the same time all this is going on, I feel like I am making some progress in the "how and when to get things done" department, which overlaps with the how to save and find topical information again department. My digital house is more or less in order, the one over my head and under my feet, not so much.
With regard to the writing, I won't beat the same dead horse that blogging's nerve has been severed by Facebook and by my own lassitude and by having not worked to maintain my "platform" as publishers call it: your user cred measured in how many thousand people subscribe to your podcasts and blog; how many thousand you have spoken to in live audiences on regional TV and radio.
This latter deficit in my writer-cred has been one of the death blows to my early zeal in getting One Place Understood published-published, not self-published like books one and two. That fiction is over. What will become of the seventy five thousand words already tossed into the folder, more or less randomly and more or less unpolished, remains to be known.

My latest inclination is to just "put it out there" publicly in some way and let what few readers find it and show interest take what they might from it, and move on.
Another option I'm considering is creating a digitally accessed pdf that is nicely laid out with a generous addition of photographs from my archives. This would be satisfying, relatively easy to do, and perhaps marketable to recoup some money for Goose Creek Press, bless its poor neglected heart.
There are ways to do digital journaling to replace the moribund blog. One might be via a writing-augmented-thinking tool called ROAM. Already I have started compartmentalizing my daily brain-nuggets into a bulleted outliner (DynaList) for structured lists OR into ROAM for idea and thought management, but also into a ROAM notebook that could become an evolving internally-networked blog-like vehicle for following my own interests while those few who choose to can look over my shoulder and follow the story.
With regard to that story, a new chapter looms. It will offer much to tell but little life-force to devote to the telling, I'm afraid. Hence, full "blog posts" are unlikely, while incremental snatches of it can go to the ROAM blog, already in place.
I have been posting blog posts to FaceBook where the readers have gone. But lately a lot of my posts there are ignored and of no interest to those hangers-out. So only the few subscribing readers of Fragments can go to the link presently. Maybe I'll try to share the link with a larger audience some day.
This post at Fragments is now duplicated over at the HOME FRONT PAGE. Let me know if you drop by. The Strange Farmer of Erehwon will be waiting for you.
Reprise: Of Memories and Hopes and Golden Dreams — Fragments from Floyd