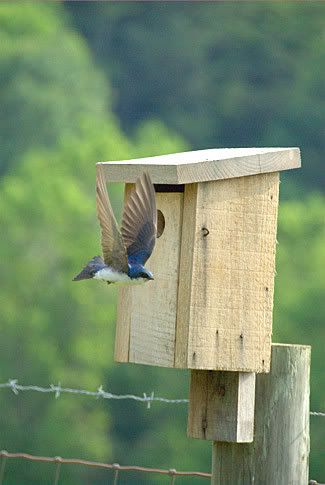 You can see a larger image different view
of this shot of a busy barn swallow bringing food to at least two hungry mouths I could see inside. She returned about once a minute with her catch (that sometimes got away before the gaping mouths could take it) so I had several opportunities to catch her on the wing.
* That's My Name Too (three! four!) There is a Goose Creek in South Carolina, and they have a press–which is how it happened to come up in a Google search for the name of my little business, Goose Creek Press. Apparently, more goes on there than in our rural backwater. I give you exhibit A. It involved Rev. Jesse Jackson, who apparently stopped by for a photo-op.
* I'm tinkering with some new sites for the book. If you enter slowroadhome.com or goosecreekpress.com in your web address, you'll go to my newly-redirected site at wetpaint.com. It's very easy to use and change. Stop by, poke around, let me know what you think. I haven't settled yet, and haven't invested anything here but a little time.
* But then yesterday I rediscovered Terapad, where I'd already set up an account back in January and then forgotten about it. It is feature rich, but as far as I can figure out, lacks an easy way to get from the edit page back to the page that's been edited.
* Almost, but not quite. I just couldn't make myself enter the medical quagmire that is health care in America. Yeah, we have insurance. But I will do anything to keep from being jerked around by Southern Health. So I'm looking at something other than straight glucosamine for my crummy wrists and thumbs. Anybody know anything about Osteo-Biflex? It's "special" ingredient is Frankensense. Seems to be something to it as an anti-inflammatory, with a history of use that goes way back.
* Carry me back. The Kingston Trio sings Four Strong Winds. So clean-cut and earnest, the crowd so polite and engaged. Sorry: the good ol' days.