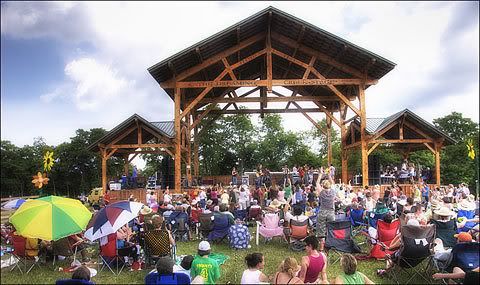 We'll not make it this year to Floyd Fest, where from the Dreaming Creek Stage, World Music will come–more musical notes than the number of ants on a Tennessee anthill–from Nashville and the rest of the planet. Here's what was said (
Miami Herald
) about the Floyd music scene, that includes this past weekend's Wine Down the Music Trail event (
Roanoke Times article
) held at the same venue as FloydFest on the Blue Ridge Parkway.
Larger image here
.
Blogger Book Review: Many thanks to David St. Lawrence for offering a kind and perceptive review of Slow Road Home both on his blog (Ripples) and especially for adding it to the Amazon.com reviews of the book–where readers of Slow Road are told they might also like Barbara Kingsolver's new book–a comparison I'm happy about but BK probably had best not learn of it.
Blog to Book: Slow Road Home was the topic of conversation at Blooking Central where Cheryl Hagedorn focuses her attention to the relationship between blogging and book publishing, gathering examples of all the variety of paths that can take. Cheryl included a bit also of an email reply to her about my experience in the blog-to-book endeavor.
By It's Cover: I exchanged several emails with a young man in Israel who had found one of my images posted at Fragments back in 2004 that he thought would make a good cover for his forthcoming book. It was interesting there for a while, and I spent a good bit of time trying to make the image work, but in the end, when I told him I didn't work for free, he decided instead to draw his own cover with a crayon. Just kidding.
Update–8:30 7/11/07! See Gary Boyd's (North Carolina Mountain Dreams blog) wonderful red jeep and flowers–his contribution for the America's Roadside Bloomery project started here a few days ago–now featured on Autoblog. Thanks for picking that up, Alex!